You have
0
items in your cart.
View Cart
Go to Checkout
---

---
Want more?
Turning Point Simulations (TPS), a division of LPS Inc, examines the 20 most decisive battles of history with a new series of boxed wargames. These games emphasize accessibility and playability, and come with hard-mounted maps and mounted, die-cut counters. Each battle is presented in a design of low complexity, but high challenge, from some of the industry's top designers.
---
And be sure to check out our sister publication Against the Odds!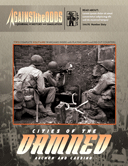 While TPS games focus on the decisive battles across time, Against the Odds magazine investigates all of military history from a broad perspective. The economic, political, religious and social aspects of warfare are examined in concert with events on the battlefield. Get yourself truly "connected" with games and gaming by subscribing to Against the Odds! Learn more...